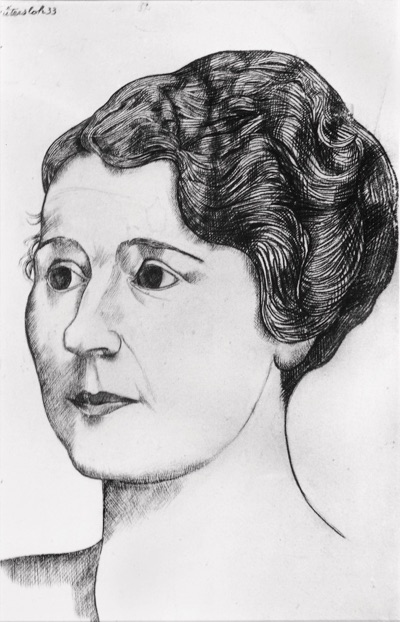 Albert Paris Gütersloh, Maria Hofer, 1933 (Private property)

MARIA HOFER (1894 – 1977)
"When she was right in the middle of improvising – the eyes were burning."
Maria Hofer's (1894 – 1977) path of life firstly led her from her native town Amstetten in Lower Austria to Vienna. Maria Hofer's outstanding musical talent was first encouraged by her mother, an accomplished singer. At the age of 8 she had already organ lessons and only several years later was now and then allowed to participate in church service as organist. One is bound to think about the biography of the early years of Franz Schmidt.
For Maria Hofer's musical development, the following years at the Academy of Music and Performing Arts were forming, where she got her education as composer, pianist and organist and as music teacher. One of her tutors was Franz Schmidt, beside Hermann Grädener, Ernst Ludwig, and Richard Stöhr. The organist of St. Steven's cathedral Victor Boschetti inducted the later master of this discipline into the art of improvisation. In these years, during the First World War, Maria Hofer started composing beside her career as pianist.
At this time, the Universal-Edition under its director Emil Hertzka had become the most important publishing company of modern contemporary, especially Austrian, music. Maria Hofer was engaged as lector for organ music. This job she herself described as important for her musical development brought her contacts with the elite of the art world of her time: Maurice Ravel, Alexander Zemlinsky, Darius Milhaud, Béla Bartók, Zoltán Kodály, Alfredo Casella, Franz Werfel, and Stefan Zweig.