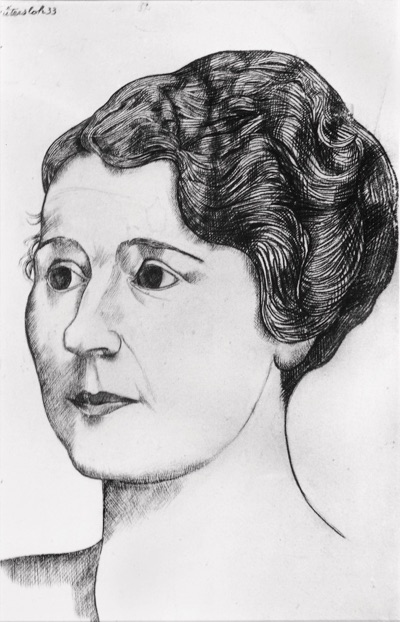 Albert Paris Gütersloh, Maria Hofer, 1933 (Private property)

MARIA HOFER (1894 – 1977)
"When she was right in the middle of improvising – the eyes were burning."
Maria Hofer's (1894 – 1977) path of life firstly led her from her native town Amstetten in Lower Austria to Vienna. Maria Hofer's outstanding musical talent was first encouraged by her mother, an accomplished singer. At the age of 8 she had already organ lessons and only several years later was now and then allowed to participate in church service as organist. One is bound to think about the biography of the early years of Franz Schmidt.
For Maria Hofer's musical development, the following years at the Academy of Music and Performing Arts were forming, where she got her education as composer, pianist and organist and as music teacher. One of her tutors was Franz Schmidt, beside Hermann Grädener, Ernst Ludwig, and Richard Stöhr. The organist of St. Steven's cathedral Victor Boschetti inducted the later master of this discipline into the art of improvisation. In these years, during the First World War, Maria Hofer started composing beside her career as pianist.
At this time, the Universal-Edition under its director Emil Hertzka had become the most important publishing company of modern contemporary, especially Austrian, music. Maria Hofer was engaged as lector for organ music. This job she herself described as important for her musical development brought her contacts with the elite of the art world of her time: Maurice Ravel, Alexander Zemlinsky, Darius Milhaud, Béla Bartók, Zoltán Kodály, Alfredo Casella, Franz Werfel, and Stefan Zweig.
Some works of Maria Hofer, including the "Toccata für Orgel" (1937), were published by Universal-Edition. The composer dedicated the toccata to her long-time friend, Yella Hertzka, the wife of the founder of Universal-Edition Emil Hertzka. Maria Hofer lived for 12 years – from 1926 to 1938 – in the house of the Hertzka-family. Yella Hertzka, an active feminist, was president of the "League for Peace and Freedom" which Maria Hofer joined after she had created a peace anthem for this league already in 1925.
In their house the Hertzka couple regularly arranged festivities for the international and Viennese music scene. Maria Hofer, friend of the family, shone as pianist and organist, the latter on the house organ of the hosts.
From the prolific work of these years, the Passacaglia caused such a sensation that one reviewer wrote: "If Maria Hofer had written only this Passacaglia, her name should be never forgotten in organ literature." (The Passacaglia is lost, together with numerous other works of Maria Hofer.)
After Maria Hofer had left Vienna probably together with Yella Hertzka who was widowed since 1932, she returned 1939 – not entirely on her own free will – to Austria. She went to Kitzbühel which she had discovered already in 1936 as her adopted home. By reason of "insulting of the Fuehrer, suspicion of listening to forbidden foreign broadcast stations and food stockpiling" Maria Hofer and her friend from Kitzbühel, the antique dealer Elsa Welwert, were arrested in July 1941 und on August 10 transferred to the prison in Innsbruck. After eight months in prison they came back to Kitzbühel. Manuscripts of Maria Hofer's compositions, valuable letters of Stefan Zweig, Franz Werfel, Arnold Schönberg, and Alma Mahler had been "vanished".
Soon after her discharge Maria Hofer continued with her concert activity, mainly playing own compositions. A review of a concert in Salzburg tried to interpret the music of Maria Hofer in terms of national socialist ideas and emphasised "the ambition of the composer, …. to strike a completely new path within the area of organ music, to quasi release the organ from the association of the church…"
After end of war Maria Hofer's work got the deserved appreciation: Contract compositions, concerts, radio broadcastings and publications contributed to the distribution of her works.
Influenced by the personality of Maria Hofer, an active musical life developed in Kitzbühel during the two decades after 1945. For the glockenspiel the composer had initiated, she wrote a number of pieces. With these works in numerous concerts, alternating with organ concerts, she addressed the native as well as the foreign audience. A multitude of liturgical compositions and church service on the organ for decades complete the picture of this exceptional woman.
Absolutely impoverished and disappointed, Maria Hofer distanced herself especially from her early works and shortly before her death destroyed many of her compositions.
A comprehensive appraisal of the compositional work of Maria Hofer is difficult because of the only fragmentary tradition. The Toccata for Organ is one of the few completely passed down compositions for this instrument. The completion of fragments, for example an organ fugue over the theme of the Andreas Hofer song, is intended.